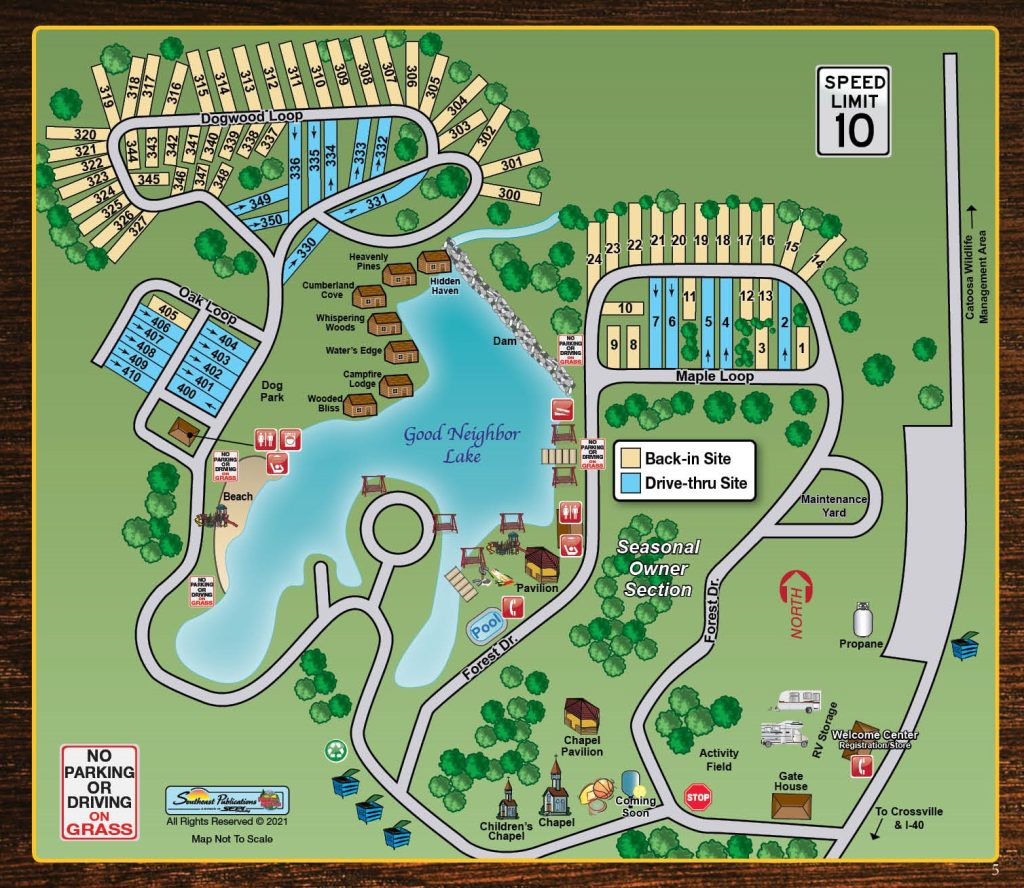 Guidelines for an Enjoyable Stay
The following are for the safety and enjoyment of our guests and visitors. Please follow these simple rules. Guests who violate these guidelines could be removed from the Resort without a refund.
Registration: All guests/visitors must register prior to entering the resort.
Visitors: All visitors of registered guests must check-in at the office. Daily visitor fee is $5.00 per person. Visitors must depart by 9 PM.
Campsite Check-Out: 11 AM- Cabin Check-out is 11 AM.
Gate Pass: Guests will be charged $10.00 for each gate pass not returned at checkout.
Speed Limit: Strictly enforced 10 MPH within the resort.
Site Selection: Please do not change site before checking with office. Site selection is only guaranteed for days paid.
Quiet Hours: 10:00 PM to 8:00AM.
Pets: Pets are welcome at the campsites, but must be on a leash and supervised at all times. Pets are not permitted in the cabins, amenity areas, or buildings. Guests will be charged a $250.00 damage deposit if found in a cabin. Pet droppings must be picked up and disposed of property, or the owner will be charged $100.
Sewer Hook-up: All campers must have a secure sewer line connection; sewer sponges available at Deer Run Store.
Campfires: Campfires allowed in fire rings only. Do not relocate the fire rings. Firewood may be purchased at the store. No cutting or taking firewood from anywhere around Deer Run.
Smoking: Please, no smoking allowed in any building or cabin. Do not discard cigarette butts on ground.
Fireworks/Firearms: Prohibited within the resort.
Alcoholic Beverages: Allowed at campsite only.
Trash: Place trash in dumpsters and/or trash cans. Do not leave trash outside overnight.
Clotheslines: No clotheslines or other items may be tied to trees.
RVs/Cars: Only two cars and one RV allowed per site. No repair work allowed. Additional parking is available for registered guests, please check with office. No parking on grass.
ATVs/UTVs/ROVs: All ATVs/UTVs/ROVs must be kept on trailers. No operation of ATVs/UTVs/ROVs allowed within the resort.
Washing of Vehicles: No washing of any vehicles, campers, or RVs allowed. Do not dump grey water on ground.
Boating on lake: Electric or paddle boats only. No gas motors. Launch boats in designated areas.
Fishing on lake: Fishing allowed from bank and docks. Bait sold at office. Please property dispose of all fishing line, hooks, etc . There is no fishing allowed at the beach.
Swimming Pool: Please obey posted rules and hours. All children 12 and under must be accompanied by an adult. No pets permitted. No lifeguard on duty.
Pickleball/Basketball/Pavilion/Pool Area: In these areas, no bicycles,
skateboards, skates or scooters allowed.
Scooters/Mini MotorBikes/etc.: Not permitted in the resort.
Golf Carts: Rentals available at office. Licensed drivers only. Private golf carts must be insured and registered at office prior to entering park.
General: Parents/Guardians are responsible for the actions and safety of their children. Please respect other guests. Do not play TVs or radios so loud that your neighbor can hear the noise. Please do not walk through other guest's campsites. Please properly secure personal belongings.
Flags/Banners:  Flying of political flags and/or banners is not allowed in the campground.
Enjoy your stay!